Get the one-page printable schedule to help guide you to all the events!

See the Event Map with times and locations to help you find all the events downtown.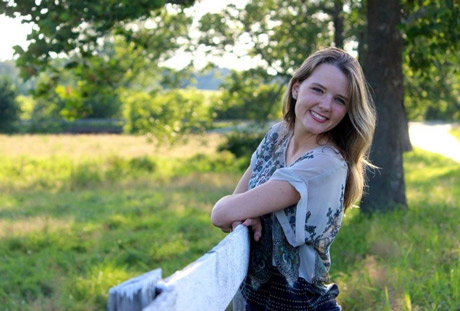 Hallie Dineen & Andrew Sales
at Georgetown Café
7:00-9:00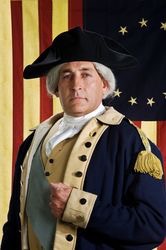 George Washington
at IndEd
6:30-8:30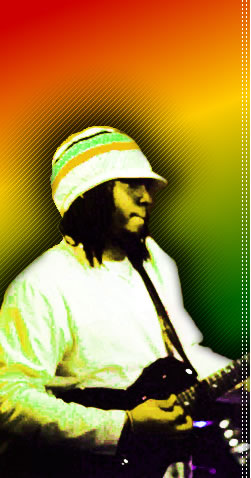 Miguel Aubertin at
Mesh Omnimedia
6:00-9:00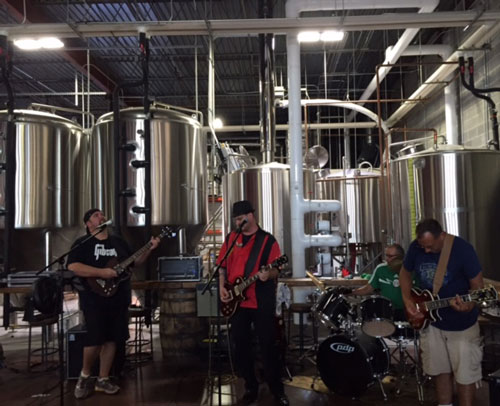 Always Looking
at Georgetown Café Patio
6:00-9:00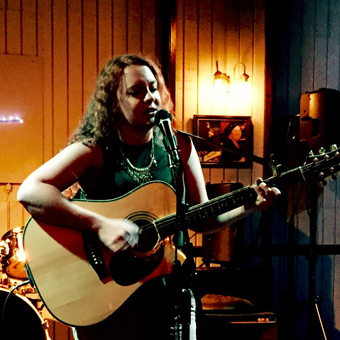 Melissa Grace at
Sugar Magnolia
6:00-9:00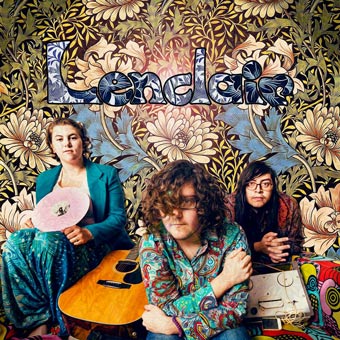 Lenclair
at Photoworks
6:00-9:00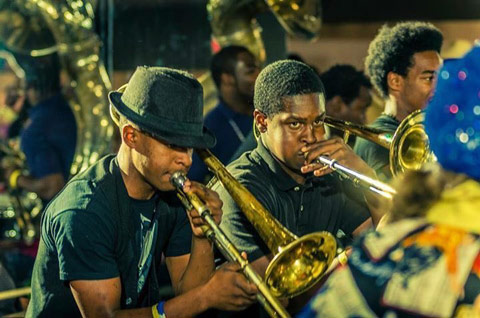 Brass Connection Band
at Cajun Experience
7:00-9:00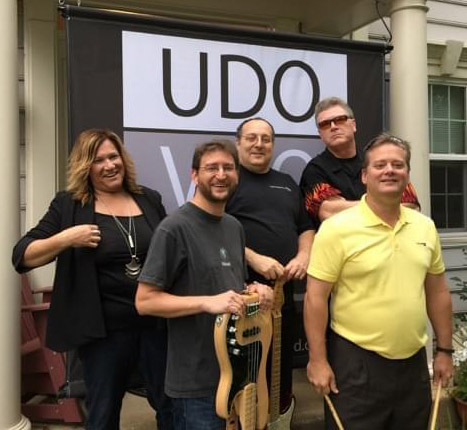 UDoVooDoo at
MacDowell Brew Kitchen
6:00-9:00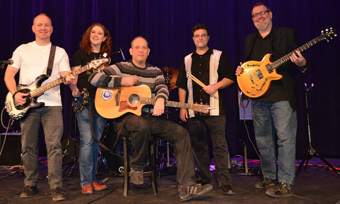 Andy Hawk at Kings Tavern
6:00-8:30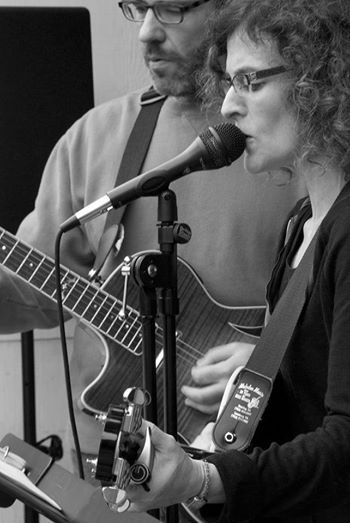 Glaurie at
Pangle & Assoc.
6:30-8:30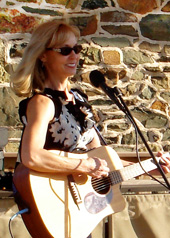 Cindy McConnell
at Leesburg Vintner
7:00-9:00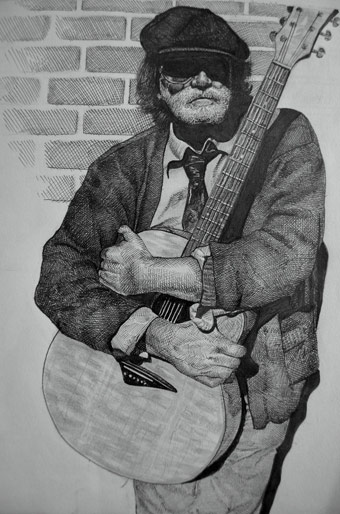 Gary Rudinsky at
King Street Coffee
6:00-9:00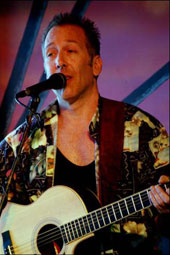 David Davol
at Doener Bistro
7:00-9:00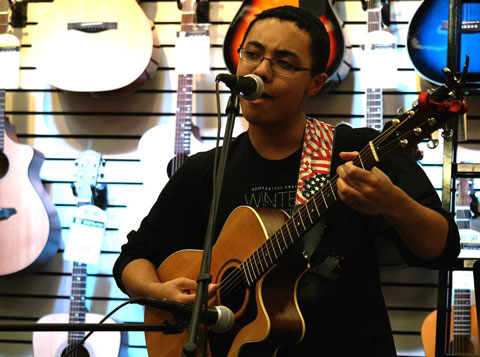 Zachary Jones
at Very Virginia Shop
7:00-9:00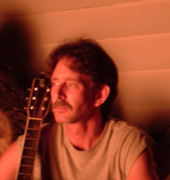 Tony Greenfield
at Black Shutter Antiques
7:00-9:00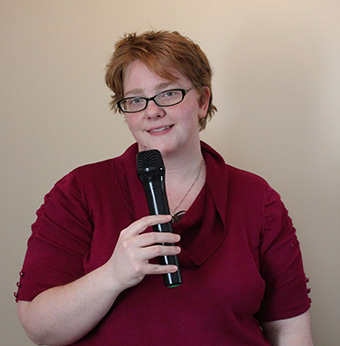 Christina Summers
at Merrill Lynch
6:00-9:00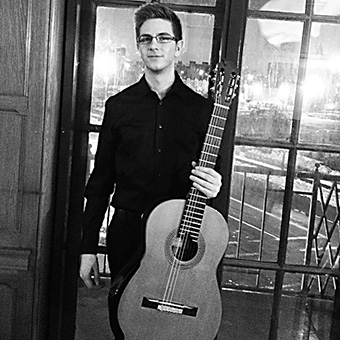 Alex Lassa & Michelle McHugh
at Crooked Run Brewery
6-10
Different performances and special events every month!
Stroll around historic downtown Leesburg on the First Friday of each month (except January), to enjoy numerous live music performances throughout the town, art exhibits, wine tastings, lectures, signings, and so much more!
Over 45 specialty shops, art galleries, antique shops and restaurants are open until 9pm or later,
many offering free refreshments and/or special sales.


Upcoming First Friday dates for your calendar:

September 4, 2015
October 2, 2015
November 6, 2015
December 4, 2015
February 5, 2016
Events for Friday, August 7, 2015
6:00-9:00 UDoVooDoo. MacDowell Brew Kitchen is hosting the UDoVooDoo band, playing classic rock through today's current hits, all with a passion for putting on a lively and fun show.

Location: 202-B Harrison St.

6:30-8:30 StageCoach. Sona Bank is hosting a theater performance by the StageCoach Bandits, of the StageCoach Theatre Company, performing improv comedy. Stop by to check out this amazing toupe and join in the laughter. Light refreshments served.

Location: 1 E. Market St.

7:00-9:00 Live Music. Georgetown Café is hosting pianist, Hallie Dineen and guitarist, Andrew Sales, singing a variety of rock and folk tunes.

Location: 19 S. King St.

6:00-1:00 Live Music. King's Tavern and Wine Bar is hosting locally acclaimed Andy Hawk and his Train Wreck Endings band from 6-8:30, consisting of several local music legends. Afterward, from 9-1am, it's open mike night featuring a wide array of musicians.

Location: 19 S. King St.

7:00-9:00 Moonlit Mile. Trinity House Café is featuring Moonlit Mile, a duet playing a mix of classic and modern rock, country and pop. Moonlit Mile is an acoustic duet comprised of Valerie Irons (vocals/percussion) and Timothy James (guitar/vocals).

Location: 101 E. Market St. (corner of Market and Church St.)

6:30-8:30 Glaurie. Pangle and Assoiciates is featuring an outdoor concert with the acoustic guitar duo known as GLAURIE, consisting of singer/songwriters, Glenn Stern and Laurie Mangold, playing an array of classic rock songs. Plus stop by to sample some of their old fashioned cookout.

Location: 109 S. King St.

7:00-9:00 Zachary. Very Virginia Shop is hosting wine tasting with Casanel Vineyards and live music by singer/guitarist, Zachary Jones, playing an array of rock and jazz tunes.

Location: 16 S. King St

6:00-9:00 Wine Tasting. The Loudoun County Visitors Center is hosting a wine tasting event with North Gate Vineyards.

Location: Market Station – Lower Level.

7:00-10:00 Crooked Angels. Leesburg Brewing Company is hosting live music with the Crooked Angels, an acoustic guitar duo, consisting of Jamie Potter and Amy Sullivan, playing the blues and roots music.

Location: 2C W. Loudoun St.

6:00-9:00 Art Open House. Medlin Art Gallery is hosting an Art Open House showcasing a large selection of antique prints, maps and original artwork from such nationally-known artists as Mort Kunstler, Mary Hope Worley, Paul Landry, John Paul Strain and P. Buckley Moss. Refreshments served.

Location: 2 E. Loudoun St.

7:00-9:00 Americana Blues. Pittsburgh Rick's is hosting Mosby Territory playing folk, bluegrass, and rock. The duo features Wild Will Williamson on vocals, guitar, harmonica, and mandolin and accompanied by his wife, Alona on vocals, percussion, and keyboard. Will is the winner of the DC Blues Society solo/duo Battle of the Bands in 2013, and he went on to compete in the International Blues Challenge in Memphis TN. As a songwriting team, they write in a variety of musical styles and cover topics from humorous satire to gritty stories of real life.

Location: 116 E. Market St.

7:00-9:00 Jessica. Lou Lou Boutique is hosting singer/guitarist, Jessica Endara, playing acoustic pop and R&B tunes. She is currently a junior at Potomac Falls High School and this is her third year performing at the Loudoun Youthfest.

Location: 9 W. Loudoun St.

6:00-9:00 Music on the Porch. Sugar Magnolia is hosting local singer/guitarist, Melissa Grace Pillor, performing an array of acoustic rock tunes.

Location: 1 W. Loudoun St.

7:00-9:00 Rockabilly. Blue Mountain Café is featuring live music on their back patio, with the King Street Kats, a local rockabilly band that plays big guitars and sings high-energy songs - rock-n-roll songs about girls, dancing and cars. The Kats consist of Brad Pierce and Steve Dotson on vocal/guitar, percussionist Kenny Finger, and Joe DeFranco on double bass.

Location: 26 S. King St.

6:00-9:00 Art Gallery. Trisha Adams' Art Studio is hosting an open house event, featuring recent oil paintings by Trisha Adams. Refreshments will be served.

Location: 2A W. Loudoun St. Upper Level

6:00-8:00 Artisan Demonstration. The Loudoun Museum is featuring an artisan demonstration with local artist, Jessica Wilson and her landscape paintings. Plus you can join tea artisan, Lisa Scruggs in the log cabin for samples of her unique tea blends. Also open is the Children's Discovery Room, where today's youngster can enjoy a special hands-on history experience, exploring what life was like for children in the 1820's. Free Admission.

Location: 16 Loudoun St. SW

6:00-9:00 Photo Exhibit. Photoworks is featuring an art exhibit by the teen campers enrolled in the Leesburg School of Photography summer camp program. Also enjoy music by the indie folk band, Lenchair and wine tasting with Lost Creek Winery.

Location: 2A W. Loudoun St.

7:00-9:00 Book Signing. Books and Other Found Things hosts monthly "meet the author" events with local authors available to discuss and sign copies of their books. The author for August is Kerri Benton and her book, Over Cast.

Location: 13 W. Loudoun St.

6:30-8:30 Meet George! IndED Academies is hosting an Open House event during Leesburg's First Friday! Come meet George Washington as he discusses the importance of being a good citizen, play Minecraft programmed with US Presidential trivia, and become a "business owner" by creating a poster of your ideal business in our Young Entrepreneurs lab! IndED Academies will also be sharing information on the inaugural after-school class, "What it Means to be a Citizen", starting this fall.

Location: 7 Loudoun St. SE

6:30-8:30 Broadway Tunes. Merrill Lynch is hosting the classically-trained vocalist Christina Summers, who sings Broadway tunes and ballads.

Location: 3 S. King St.

5:00-10:00 Live Music. Crooked Run Brewing, downtown's cool little pub, is hosting the very talented classical guitarist, Alex Lassa from 5:00 to 8:00. A graduate of Heritage High and member of the popular local teen band, Disengage, Alex now studies at the Eastman School of Music in Rochester New York. Then starting around 8pm, guitarist, Michelle McHugh will be performing adult contemporary pop/rock.

Location: Market Station-Lower Level.

5:30-8:00 Live Music. Picket Fence Home Realty is hosting live music by pianist, Lindsey Cook, singing an array of contemporary tunes. Refreshments also offered.

Location: 212 S. King St.

7:00-9:00 Ken Hall. Palio Steak and Seafood Restaurant is featuring live music by the Ken Hall Band, playing a wide array of tunes from yesterday and today.

Location: 2 W. Market St.

7:00-9:00 Guitarist, Tony Greenfield. Black Shutter is hosting live music by guitarist/singer, Tony Greenfield, performing from his repertoire of over 200 songs, ranging from classic rock to classic country and bluegrass to old standards.

Location: 1 Loudoun St. SE

6:00-9:00 Antique Open House. Weathered Elegance, which is one of downtown's fabulous antique and home decor shop, will be hosting an open house with specials and refreshments. Stop by to check out this shop which specializes in repurposed items.

Location: 2 W. Loudoun St.

6:00-9:00 Sunflowers! The Sunflower Shack is hosting an open house featuring local art by Jill Perla, who is known for her awesome floral paintings. Stop by to say hello to Peggy, and check all her unique treasures. They offer a wide array of home décor, antiques, jewelry and unique gifts.

Location: 209 E. Loudoun St.

5:00-8:00 Open House. The Guest Room is hosting an open house showcasing their wide array of fine furniture, most of which is made in the United States. Also, offering complimentary refreshments.

Location: 201 E. Loudoun St.

6:00-9:00 Open Mike. Groove Music Lessons and Recording Studio is hosting an open mike night for Leesburg First Friday. Stop by this new business to welcome them to downtown.

Location: 205 Edwards Ferry Road

6:00-9:00 Larisa. Shoe's Cup and Cork is hosting by Larisa Mangione with her husband Chris, on guitar, playing a wide array of Jazz tunes. Also performing are several of Larisa Mangione Music Studio's students, playing a variety of pieces.

Location: 17 N. King St.

7:00-9:00 Brass Jam Concert. The Cajun Experience is featuring live music with the Brass Connection Band.

Location: 14 E. Loudoun St

6:00-8:30 Art Open House. Gleedsville Art Publishers is hosting an art open house featuring paintings and drawings by local artists such as Catherine Thomas, Sue Kelleher, Bill Schmidt, Antony Andrews and Grant Hacking.

Location: 5 W. Loudoun St.

6:00-10:00 Heroes & Villians. The Hopps Art Lounge (formerly known as Night Gallery) is hosting a unique collection of art with a "Heroes and Villians" theme by owner, Kevin Dunn along with other local artists including Christopher Skowron, Meagan Mullins, Eden Gali, Paula Dea Creo Bannerman, Shane Bronson, Liam Harrison, Natalie Adams Paragrive, Cecilia Rose, John Detrich, Louie Haas, and Kristen Miller Starling. Light refreshments.

Location: 18 S. King St. (upper level)

7:00-9:00 Classical Guitar. The Old Town Grill is featuring classical guitarist, Andrew Weed, who recently graduated from James Madison University with a degree in music and who also teaches guitar lessons.

Location: 15 S. King St.

6:00-9:00 Rudy! King Street Coffee is featuring live music by local musician and Loudoun County High School teacher, Gary Rudinsky, playing a wide array of rock music, along with some of his musical friends. Also, be sure to check out the cool art on display on the walls by painter, John Dooney.

Location: 110 S. King St.

7:00-10:00 Music and Art. Chimole is featuring music with a Latin beat and an art exhibit that showcases and promotes art from Honduras, with a wide array of paintings and pottery from various Honduran artists.

Location: 10 S. King St

6:00-9:00 Music with Wine. The Leesburg Vintner is hosting monthly wine specials with wine by the glass, along with live from 7-9 with singer/guitarist, Cindy McConnell, who has performed acoustic folk/rock covers for more than 10 years.

Location: 27 S. King St.

7:00-9:00 Jan and Jeff. Designer Goldsmith is hosting the popular guitar duo, Jan & Jeff, performing from their wide repertoire of songs, from classic rock to contemporary to bluegrass and old standards. Refreshments served.

Location: Market Station - Lower Level.

7:00-9:00 David Davol. Doener Bistro is hosting acoustic guitarist/singer, David Davol, highlighting the Folk-Rock style of the 60's and 70's. He also performs selections of modern Country and Western music, as well as Rock and Alternative tunes. Pick your favorite hits from his 400 song request list.

Location: 202 Harrison St.

6:00-7:00 Free Yoga Lesson. Flow Yoga is offering a FREE fun-filled yoga practice, which is open to all experience levels.

Location: Market Station - 3rd floor.

6:00-9:00 Chicago Specials. Windy City Red Hots is celebrating Chicago in downtown Leesburg with special authentic Chicago style hot Dogs, Polish Sausage, Italian Sausage, and Chili-Cheese Fries. Stop by to get a quick bite of Chicago, without traveling 700 miles.

Location: 28 S. King St.

6:00-9:00 Antique Open House. Leesburg Antique Emporium is hosting an open house with special deals on antiques and other collectibles.

Location: 32 S. King St.

6:00-9:00 Open House. TW Firearms is hosting an open house to showcase their numerous products and services. Stop by to check them out.

Location: 26 S. King Street - upper level.

4:00-7:00 Open House. Blossom and Bloom Thrift Store is hosting an open house with specials. Stop by to shop to help support all the good charities that Blossom and Bloom supports.

Location: 110 W. Market St.

6:00-9:00 Open House. The 24 Hour Watch and Clock Repair Store, a new shop on Market Street, is hosting an open house to showcase their specialty watch, clock, and jewelry repairs.

Location: 18 W. Market St.

6:00-9:00 Friday Night Sew-cial. Finch Sewing Studio is featuring a sew-cial, which is a fun place to work on sewing projects with others and to get help from one of the studio's expert staff. They have the sewing machines and tools on site and are happy to help you get started on a new project or with a project you bring from home.

Location: 102 W. Location St.

6:00-9:00 Artist Exhibit. The Leesburg Commission on Public Art is featuring the art of Leesburg artist, Betty Ganley, whose watercolors from the coast of Maine to the shores of the Chesapeake, including the ancient fishing villages and blooming gardens of England will be on display at the Leesburg Exhibit Hall through the end of August. Betty Ganley, an internationally recognized name in watercolor, is the recipient of over 80 awards for her vibrant floral and marine paintings.

Location: 25 W. Market St.
30 Live Music Events
6 Art Exhibits
5 Wine Tastings

... And So Much More ...